Nicole
Nicole Wall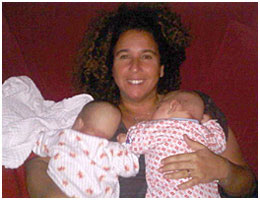 If Nicole had a mantra it would be if you want to get something done ask a busy person as she generally manages to squeeze more into a day than most people would be able to fit into a week!
Nicole gave up a successful career in the business world following the birth of her first child (now aged 16). Three more children swiftly followed and Nicole combined raising her young family with being involved in many different projects including setting up and organising educational workshops for secondary school children, fundraising for various charities and volunteering in many different capacities at her children's school.
Nicole's role as a mother of four means that she has experienced first hand the challenges that family life can bring and appreciates just how important it is to have good childcare. Being the proud mother of twin boys she is also very well placed to guide parents who are blessed with the delights of two or more babies and is very happy to share her enormous experience as well as her extremely positive attitude to whatever life throws at her.
Despite Nicole's very busy family life she always has time for a chat and by the time she has got off the phone from speaking to anxious and sleep deprived new parents they always feel that they are not alone and that everything is going to be ok.